The world is filled with all kinds of eccentric personalities-the laid-back surfer, the cerebral artist, the nagging mother-in-law, the driven business executive, the self-deprecating comic. And you know what? You're included somewhere on this list, too, and that's good. The world would be pretty boring if we didn't have such diverse personalities.

Although we applaud the world's weirdness, we have to make a difference between good weird and bad weird. When these personality traits start aversely affecting your life-in your daily activities and the way you interact with people-you might have a problem.

For example, keeping your house clean is good. Scrubbing your sink so often that your kids have to make a reservation to use the bathroom isn't. Being cautious about driving is good. But being so worried about having an accident that you won't leave the house isn't.

That's the line in diagnosing emotional disorders. Is your personality trait simply idiosyncratic and somewhat endearing? Or is it so destructive that it changes the way you and others around you live?

In either case, just simply telling yourself to change may not be effective. It used to be that people thought you could turn personality traits off and on, that all it takes to change is the will to change. But we know now that brains are like college freshmen-sometimes they're going to do whatever they want no matter what you tell them.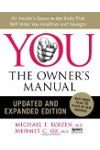 Continue Learning about Emotional Health