At their core, fear and worry are about survival. They are the equivalent of the ego lamenting, "This looks bad. I don't know if I'm going to make it." Even when the ego is worried about other people, ultimately, it's still afraid for itself. "If something happens to them, then what will I do? How will I get along?"

Excitement and happiness can even lead us to reach for food, because fear of loss is usually lurking somewhere underneath, generated by thoughts like "This will never last"; "What will happen when they leave?"; or "Just wait, they'll find out you're a fraud soon enough." The egoic mind invents a scary future and we're instantly trapped in fear's clutches. I've heard that 90% of the things we fear never happen. If you look at it from that perspective, why are we getting ourselves all worked up? Who knows what the future will bring? Why get our knickers in a bunch about a nightmare that in all likelihood will never manifest?

Worrying is a habit born out of the desire to be in control. The ego keeps busy trying to convince you that you can bend life to your will if you live by the ego's rules. And when life has the audacity to say "Thanks, but no thanks" to the ego's plan, the ego wigs out and says, "Holy cannoli! I'm just a fragile little speck in this vast, unfriendly universe. Who will take care of me? I'll never be safe!" Then, before you can say "all-you-can-eat buffet," in bolts the ego's Child (pleasure-seeking impulses) to comfort you, assuring you, "You know what you can always depend on, what never lets you down? Your good old friend food. There are no surprises in that relationship. You always know what you're going to get when you bite into an apple fritter or a slice of pizza."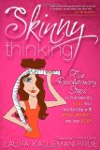 Fear and anxiety can greatly affect one's appetite and digestion. Depending on how you personally react to fear or stress, a loss of appetite or increase of appetite might occur. In addition, digestion can be affected by anxiety and fear. Indigestion, heartburn, upset stomach, diarrhea, and/or constipation are not unusual when someone is under a lot of stress/anxiety, and or fear. Often people may have cravings for comfort foods, such as sweets and desserts.
Continue Learning about Emotional Eating