Make sure all your phone directories (work, home, cell) include the entry ICE (in case of emergency). ICE is the person you want emergency medical services to call if you're ill or injured. Make sure your children's phones contain ICE, too! Emergency personnel are trained to look for this entry on your cell and home phone when they need information. Your ICE contact should be familiar with your medical history and have access to a copy of your current medical documents.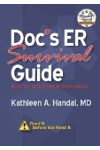 More About this Book
Doc's ER Survival Guide (DocHandal's Guides)
Few people get through life without at least one trip to the emergency room (ER), either as a patient or support person for a family member or friend. Doc's ER Survival Guide is designed to help...
About ten years ago I was walking through the Queen of the Valley emergency room at Citrus Valley Health Partners, one of three hospitals where I work. It is one of the busiest ER in Los Angeles. As I walked into the ER, I noticed a frustrated nurse holding a cell phone. I asked, "What's up with the nurse and the cell phone?" The doctor said, "Oh, you'll see." Within a few minutes, the cell phone rang on queue. The nurse answered it saying, "Hi, could you please tell me who this is and who's cell phone this is?" There was a pause as the hopeful nurse listened for an answer, but instead what she got from the person on the other line was, "Who is this, this is not your cell phone, who are you?" The nurse began to plead, "Please tell me who you are." The person then hung up.
The physician explained that the nurse was caring for Mr. Jones (not his real name) in bed 3, who had a heart attack at a mall. He was carrying his Driver's License and the police had left a note at the address. The days of carrying that little ID that said "in case of emergency notify" have long since passed. That's when I began to get it—the cell phone. The doctor said, "Yes, but you see because of HIPAA laws (patient confidentiality), when someone calls we cannot say who's here and that we're a hospital." The nurse keeps hoping that someone will finally say, I am his wife, or I am his brother etc.
Less than 30% of us carry any information of whom we would like called if we were in a serious accident. We have tons of contact phone numbers in our cell phones, labeled Bob, Judy, Bill, Frank. How would a hospital know who is your wife, friend, business acquaintance, car mechanic, etc.? The answer is ICE (In Case of Emergency). It is an acronym that hospitals, paramedics, fire fighters and police officers are using to identify victims and contact their next of kin. Enter your emergency contact person in their cell phone under "ICE". This way, if a person is ever found unconscious or becomes ill, we immediately know who to call. People ask What if I want you to call more than one person in case of an emergency - ICE? The more contacts the better; identify them as ICE 1, ICE 2, and ICE 3.
Continue Learning about Survival and Emergency Preparedness