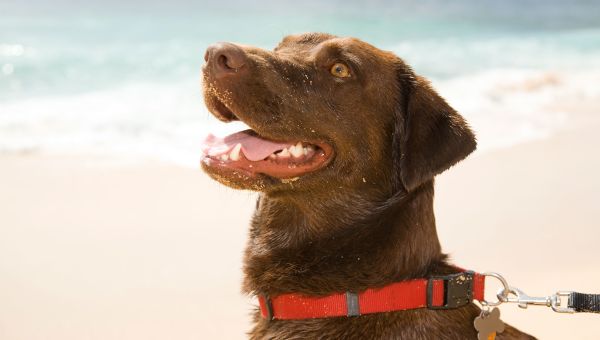 With hurricanes, earthquakes, tsunamis and volcanic eruptions, Hawaii residents need to keep furry friends ready for anything.
1 / 5
Hawaii is no stranger to natural disasters. The islands were created and continue to expand through volcanic eruptions, while annual Pacific hurricanes and tropical storms threaten our shores each May through November. It's important for all Hawaii residents to maintain an emergency kit in the event of any natural disaster, including storms, tsunamis, earthquakes or more volcanic activity.
In the midst of preparing your family for a worst-case scenario, don't forget to keep your pets in mind. The Hawaiian Humane Society in Honolulu has plenty of great tips for how to plan for your pets. In addition, Allison Gammel, the organization's Community Relations Director, shares insights on what local animal lovers might do to keep their furry friends safe.
Medically reviewed in April 2020. 2 / 5

Identification

The first step to keeping your pets safe is making sure they have proper identification, which is crucial in the event that you are separated during a natural disaster. Since dogs and cats can't carry wallets with a picture ID, make sure they wear a collar with tags. Periodically check tags to make sure your contact information is up-to-date and still legible, as they may wear over time.

Remember that in the City and County of Honolulu, all dogs four months and older are required to be licensed and wear a county-issued tag. You can purchase a license and tag at any Satellite City Hall and at the Hawaiian Humane Society.

In addition to tags, Gammel recommends getting your pet microchipped if they aren't already. Collars can be removed or fall off, but a microchip with your contact information stays with a pet no matter what.

Lastly, if you and your pet are separated, be sure to file a missing pet report with your local Humane Society. You can also check their facilities for found cats and dogs. There are independent humane societies on Oahu, Hawaii Island, Kauai, Maui and Molokai. 3 / 5

Pets are family so plan accordingly

Dogs, cats, hamsters and more aren't just furry roomies. They're also a valued part of your ohana. It's important to remember them when making hurricane or other natural disaster plans.

"We like to say, 'It's not safe for you. It's not safe for your pets.' So, when you're preparing for a storm ... keep your pets in mind," says Gammel.

Some items to consider putting in a pet emergency kit include:
Two weeks' worth of food and water in sealed containers
Collar (with tags) and leash
Medications
Pet photos in case of separation
Vaccination and veterinary records
Cleaning supplies (don't forget cat litter or puppy pads depending on your needs) 4 / 5

Look for pet-friendly shelters

Whether you are forced to evacuate or leave voluntarily, look for shelters that are pet-friendly. The Hawaiian Humane Society recommends listening to the radio and watching news broadcasts for up-to-date information about which facilities are open and will accept animals.

Thankfully, many of Oahu's shelters allow animals. "When the City and County of Honolulu opened shelters for both Hurricanes Lane and Olivia, all of them were pet-friendly," notes Gammel.

You will be solely responsible for your pets' needs including feeding and cleaning at a shelter. Bring your pet emergency kit, as well as a crate that's large enough for your pet to stand up and turn around in. Gammel also recommends "adding some things that are comforting to them like a blanket or a toy, that will help them relax while they're there." 5 / 5

Caring for strays and outdoor pets

If you are one of Hawaii's many residents who care for stray or feral cats, you may wonder how to best protect these outdoor animals. For a large feral cat colony, keep a catalogue of animals, along with pictures to identify them if any go missing after a storm or other natural disaster. Move any low-lying feeding stations to higher perches using whatever supplies are available such as cinder blocks or wood pellets and try to secure them against strong winds. If at all possible, get cats to a stable, indoor location.

For pets that normally live outside like an outdoor dog or indoor-outdoor cat, try to bring them inside if you know a storm or other threat is approaching. "If you're seeking shelter at home, bring your animal inside early on before the storm actually arrives," says Gammel. "That way if your animal is not normally an inside animal, they can get somewhat used to it and they're not already scared that the storm has hit."
Continue Learning about Survival and Emergency Preparedness