In case of a medical emergency, it is a good idea to have your insurance card with you, plus an updated personal medical history and medication form. This form should include:
- A list of the prescription and over-the-counter medications you take, including the name of the medication; the dosage, frequency, and route taken.

- A list of any dietary supplements, herbal supplements or vitamins you take.

- Allergies to foods, drugs, latex, contrast die or other manufactured materials.

- Any major surgery you may have had.

- A list of your doctors' names and numbers.

- A contact number for your health care proxy (your health advocate) including a home number, work number, and cell number.

- A contact number for your emergency contact (if different than your health care advocate).

- Also, if you have a medical history folder with all your latest tests and procedures done, bring that with you. Bring a pen and note pad to take any notes and take a book, magazine and hand sanitizer with you as well. [This is for any non-threatening life saving emergency.]
Nurse Midwife Paula Greer discusses the information you should always carry on you in case you have a medical emergency. Watch Paula Greer's video for tips and information on nursing and overall health.
Naturally, having your I.D. and your health insurance card on your (hopefully still warm, intact and breathing) body will be a huge help if you're found unconscious during an emergency—or are otherwise unable to help direct your own emergency care. And if you have a serious medical condition, such as diabetes or high blood pressure, wearing a Medic Alert emblem or bracelet is a no-brainer that could save your life. But you'd also be wise to carry some other info in your wallet or purse.

First, compile all the info that's pertinent to your health: current and past medical problems, your family health history, any medications or supplements you're taking, and other critical info) and reduce it to its smallest readable size on a copy machine.

Right before stashing it in your wallet, write or highlight any allergies you have (especially drug and rubber or latex allergies), and print a to-do note on it: "In an emergency, I'd like to be taken to "SPECIFIC HOSPITAL, AT THAT HOSPITALS' FULL ADDRESS" if going to this emergency department is practical."

Secondly, if you're older than 50, make a reduced copy of your last electrocardiogram test (your EKG) from your last physical, date it, and keep that in your wallet. This can save the emergency department staff precious time in determining how abnormally your heart is functioning compared with your usual baseline function.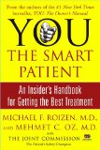 Continue Learning about Survival and Emergency Preparedness