To help you understand how alternative medicine really works, think back to the last time you had an excruciating headache. What treatment finally worked to relieve your pain? If you go to a conventional medical doctor with headache as your symptom, he may run some laboratory tests, then give you a prescription pain reliever or antibiotic for infection. If you see a holistic practitioner with headache as your symptom, she may review your history, ask questions about your lifestyle, then prescribe various treatments that would work together to reconnect the mind and body and help you to do the following:
reduce your tension with biofeedback
decrease pain with feverfew, an herb that has been found to help with migraine pain
eliminate toxins from your body by increasing fluids and clear liquids
visualize being "pain free" using guided imagery and imagination
increase healing sleep with hydrotherapy (a warm bath)
strengthen the immune system using nutritional supplements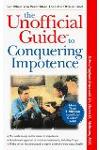 More About this Book
Unofficial Guide to Impotence
The Unofficial Guide to Conquering Impotence delivers the inside scoop on impotence: the truth about Viagra, what treatments really work, and how lifestyle changes can aid in conquering...
Continue Learning about Effectiveness Of Alternative Therapies