Ultraviolet radiation from the sun weakens those elastic collagen fibers that give skin its tautness. And the sun's radiation, which penetrates below the surface, causes particles called free radicals to float around in your body and damage your genes, which is what can lead to cancer. Overexposure can certainly lead to a painful burn, but the effects last much longer than your burn will. Doing it over and over and over again (that goes for tanning as well as burning), is a surefire way to make your skin look old--no matter what your age.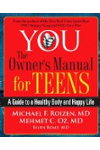 The sun's ultraviolet (UV) light generates an army of free radicals. It's estimated that half of the sun's skin damage is caused by them. Inflammation and UV assaults are like a one-two punch to your skin because its major components, fats, proteins, and Deoxyribonucleic Acid (DNA), are favorite free-radical targets. The end result is skin aging: Collagen breaks down, abnormal elastin increases, moisture is lost, wrinkles accumulate, and skin cancer may start brewing, too.
From The Mind-Beauty Connection: 9 Days to Less Stress, Gorgeous Skin, and a Whole New You by Amy Wechsler.
Continue Learning about Effect Of Sun On Skin