Sun exposure can affect aging by causing damage to the skin. This can lead to wrinkles and, even worse, skin cancer. It is important to protect skin from damage by wearing sun screen and limiting exposure to sun during the hottest parts of the day. People should talk with a healthcare provider if they are concerned about their skin.
Too much sun ages us because exposure to ultraviolet light destroys elastin and promotes wrinkles. It also damages the chromosomes in your skin cells. Chromosomes are the strands of deoxyribonucleic acid (DNA) contained in each cell in your body. If you look through a microscope at sun-damaged skin cells, you can see actual breaks in the chromosomes where they have been damaged by solar radiation. This chromosomal damage can lead to cancers. Amazingly, the sun can even damage the chromosomes in cells not directly exposed to sunlight.
Researchers are learning more and more about the risks and benefits of sun exposure. In this video, Michael Roizen, MD, chief wellness officer for the Cleveland Clinic, discusses how sun exposure can affect how quickly you age, and your risk of cancer.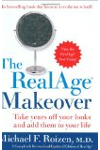 Continue Learning about Effect Of Sun On Skin