For those of us with bipolar disorder, there are many items we can eat as a snack that are actually good for us and can add to our nutritional daily requirements. My favorites for the office are crunchy apples (they last long without refrigeration and are crunchy or sweet with just a touch of sour). The whole citrus family is also an excellent choice, because they pack enough vitamin C to keep our immune systems going when depression may have lowered our bodies' defenses. Munching on grapes or sunflower seeds is much healthier than eating candy. Grapes keep your mouth busy even though they're mostly water with just enough sugar to keep your taste buds happy. Their high water content may also reduce dry mouth. Sunflower seeds provide you with healthy fats. Another thing to do is keep a bottle of water handy. Drinking lots of water keeps the appetite low, helps kidney and liver functions, and reduces the impact of certain medication side effects.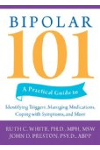 Continue Learning about Eating Habits and Nutrition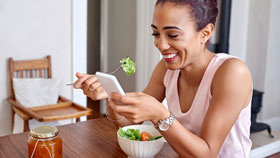 Three meals a day or five? That's only one aspect of the behavior known as eating habits. There is also the matter of style. Do you plan your meals or eat on the run - do you eat when you are happy, sad, or stressed - these are ot...
hers. Recognizing your eating style can help you work to achieve healthier eating habits.
More