Night-eating syndrome (NES) may technically not be a sleep disorder, but an eating disorder instead. Many people with NES however have trouble falling or staying asleep, a symptom of insomnia, which is why the lines are blurred to its classification. Alternatively, NES and sleep-related eating disorder (SRED) may be part of the same syndrome, but different parts of the spectrum. Regardless, this problem can be equally detrimental to one's health.
NES sufferers may eat a normal dinner but between 8 pm and 6 am, it's a feeding frenzy. They usually recall the eating episodes but the urges are uncontrollable, strong and occur at frequent intervals of wakefulness. High-calorie carbohydrates are the food of choice. People with NES can consume up to 50% of their daily calories at night. They wake in the morning full and satiated and often skip breakfast.
Like SRED, nighttime-eating syndrome is poorly understood. People with certain forms of depression and substance abusers are at higher risk.
This content originally appeared on
doctoroz.com
Night-eating syndrome is an eating disorder often linked to obesity. An individual with night-eating syndrome may eat sparingly or not at all in the morning. However, at night time, the individual eats copious amounts of food, often high-calorie food. Often the individual will wake up in the middle of the night to eat. It is not known what causes night-eating syndrome, but it does seem to be related to depression.
Continue Learning about Eating Habits and Nutrition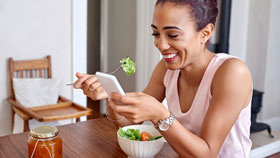 Three meals a day or five? That's only one aspect of the behavior known as eating habits. There is also the matter of style. Do you plan your meals or eat on the run - do you eat when you are happy, sad, or stressed - these are ot...
hers. Recognizing your eating style can help you work to achieve healthier eating habits.
More