Eating small amounts of appropriate foods frequently helps prevent large variations in blood sugar. Therefore eating protein, vegetables and very little sweet or starchy foods can be helpful to people with diabetes, low blood sugar or other conditions.
By eating every three to four hours you don't allow your self to get too hungry which usually leads you to give into temptation or to go scavenging for food. Instead, be prepared with easy meals and snacks that provide steady energy flow, rather than peaks and valleys of mood and energy.
Continue Learning about Eating Habits and Nutrition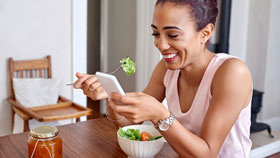 Three meals a day or five? That's only one aspect of the behavior known as eating habits. There is also the matter of style. Do you plan your meals or eat on the run - do you eat when you are happy, sad, or stressed - these are ot...
hers. Recognizing your eating style can help you work to achieve healthier eating habits.
More