Here are some healthy dips that you can try:
Hummus
Make your own ranch dressing with 1 packet of ranch mix plus substitute greek yogurt for the sour cream.
Yogurt mixed with any puree fruit
Salsa (add black beans for a healthier snack)
Marinate some lentils in olive oil, vinegar and spices-add chopped tomato, onion and cilantro
When making layered taco dip-use greek yogurt for the sour cream
Here are some ideas for snacks that involve taking a little dip...
Dip apple slices into natural peanut or almond butter
Dip fresh cucumber or jicama slices into salsa
Dip carrot sticks, squash or red pepper slices into hummus
Dip light string cheese into marinara sauce
Dip cherry or grape tomatoes into light ranch dressing
Dip whole grain pita triangles into tzatziki sauce (a fresh yogurt, cucumber dip)
Dip whole grain pretzels into spicy mustard
Dip baked tortilla chips into black bean dip or a fruity salsa
Do you enjoy snacks that you can dip into unique blends of flavor? Check out these ideas for healthful snacks that you can dip into:
Dip baby carrots and cherry tomatoes in low-fat ranch dressing.
Dip strawberries or apple slices in low-fat yogurt.
Dip pretzels in mustard.
Dip pita chips in hummus.
Dip graham crackers in applesauce.
Dip baked tortilla chips in bean dip.
Dip animal crackers in low-fat pudding.
Dip bread sticks in salsa.
Dip a granola bar in low-fat yogurt.
Dip mini-toaster waffles in cinnamon applesauce.
Continue Learning about Eating Habits and Nutrition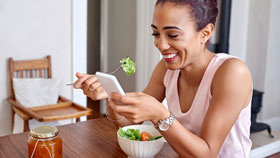 Three meals a day or five? That's only one aspect of the behavior known as eating habits. There is also the matter of style. Do you plan your meals or eat on the run - do you eat when you are happy, sad, or stressed - these are ot...
hers. Recognizing your eating style can help you work to achieve healthier eating habits.
More