HALT, an acronym for Hungry, Angry, Lonely, and Tired, is a popular slogan in recovery communities like Alcoholics Anonymous and Overeaters Anonymous. The idea is that each of these four conditions, if not taken care of, can lead to relapse. But this powerful technique also works to short-circuit food cravings. It's simple to use. Just ask yourself the questions below:
"Am I physically hungry?" True hunger is natural. It comes on gradually, grows more intense the longer you go without food, and goes away when you eat. If you are hungry, eat a healthy snack to tide you over until your next meal. If you're not hungry, continue with the questions - they'll help you find a calorie-free way to meet your emotional need.
"Am I angry?" Eating an entire sleeve of Oreos because you're mad at your mother, your partner, or your boss may mask your anger, but it won't get rid of it. Besides, you know you'll feel guilty and furious with yourself later on. Why put yourself through that? Choose a healthy way to blow off steam; take a brisk walk if possible or let it all out in your journal.
"Am I lonely?" No matter how delicious it is, food is no substitute for human companionship. To get the true connection you seek, call a friend or relative, or better yet, make plans to get together for a (healthy) dinner, a movie, or to simply hang out.
"Am I tired?" You can't make smart choices about food if you're nodding off. Catch a twenty-minute catnap, take a quick shower, or - if it's nighttime - head to bed. Yes, it really is that simple. You can't eat if you're sleeping!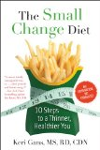 Continue Learning about Eating Habits and Nutrition