Many of us go "zombie" when we're eating and become oblivious to how much food is going in. Without knowing it, we shovel in food like we're the Energizer Bunny set loose in a carrot patch. Anything we can do to become aware of and interrupt this pattern is helpful.

Personally, I like to stand up and walk around a bit. If I'm at a restaurant, sometimes I go to the ladies' room, even if I don't need to, just to break the trance. Another helpful strategy is to put your fork down between bites. When I go unconscious, I can get into a pattern of loading up my fork for my next bite while I'm still chewing the previous one. To counteract this tendency, I stop, put my fork down, and take a few breaths before continuing with my meal.

If you tend to race through meals, it's easy to overfill your stomach. It's amazing how many calories can go in when you're eating fast! Make a conscious effort to eat in slow motion and chew your food thoroughly. This is especially important when you're very hungry.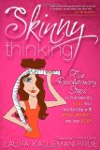 There are many tips on how to control your rate of eating, but they definitely require some thinking. Try to set down your utensils between each bite. Drink a few sips of a calorie free or low calorie beverage between each bite. Eat with people who are engaging.

Here are ideas for eating slowly and picking up on your hunger cues:
Between each bite, put down your fork or spoon.
If you're not a pro at eating with chopsticks, learn how. Use of chopsticks encourages slow eating.
Chewing thoroughly will slow down how fast you eat and will ease digestion.
Savor the flavors, aromas and textures of foods. It's more than just fuel for your body.
Enjoy conversation and social time. Talk about anything -- even the flavors of foods.
To eat slower, you can have a conversation during the meal which easily restricts how fast you eat. You can also set your utensil down in between bites and take a sip of liquid. Another tip is to make sure that you are chewing your food well instead of gulping it down. Foods like salads and nuts require a little more chewing so include them in your daily meal plan.
One simple utensil is all it takes to eat more slowly, which helps you eat less. "Hungry Girl" author Lisa Lillien reveals what it is in this video.
Continue Learning about Eating Habits and Nutrition