If you religiously kennel your dog every time you get out even the smallest snack, you'll soon find you're snacking less often. Kenneling the dog before you eat makes you take a few minutes break to determine if you really need a dish of ice cream or a handful of cookies an hour before dinner. If you're a frequent snacker, this will become obvious when you're regularly asking your dog to go to his kennel so you can nibble something. Kenneling your dog with every snack can help make you more aware of your own bad eating behavior.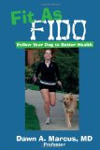 More About this Book
Fit As Fido: Follow Your Dog to Better Health
Let your dog teach you to live a happier, healthier, and more fulfilling life! Companionship with your pet can be used as a means and a motivator to increase your own physical and mental fitness....
Continue Learning about Eating Habits and Nutrition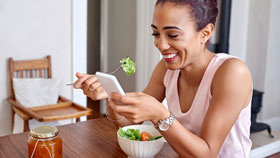 Three meals a day or five? That's only one aspect of the behavior known as eating habits. There is also the matter of style. Do you plan your meals or eat on the run - do you eat when you are happy, sad, or stressed - these are ot...
hers. Recognizing your eating style can help you work to achieve healthier eating habits.
More