When we're bored, we tell ourselves the unhappy story that whatever is happening is uninteresting and not what we were hoping for from life. We feel restless and dissatisfied. The ego doesn't like what's showing up, yet it has no clarity about how to remedy it. Boredom is a muddled, stuck state that the ego creates, agonizes over, and turns into a problem.

Oftentimes, when we tell ourselves a story that results in boredom, we move into default mode -- reaching for something tasty. We allow the Child to take over, and see food solely as a source of pleasure. One way to avoid reaching for food when boredom strikes is to say to the ego's Child (pleasure-seeking impulses), just as we might to a persistent two-year-old, "Not now -- maybe later."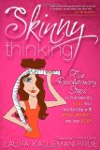 Boredom often leads to overeating, or unconscious eating especially when there is readily available food. Boredom eating is a major contributor to weight gain, and obesity. Boredom, while not considered an emotion is considered a type of emotional eating. Another type of boredom eating happens when someone eats the same foods over, and over. Without variety in your diet chances are you will become bored, and when this happens you are at a high risk of overeating.
Continue Learning about Eating Habits and Nutrition