Often enough, sugar-free cookies contain the same or more fat as the original recipes. While a serving of cookies my have 0 grams of sugar, it can just as easily contain 9 grams of fat.

Slim strategy: try graham crackers

If you're looking to satisfy your sweet tooth, nosh on graham crackers. The crunch and subtle sweetness can quell the need to seek out other diet-destroying desserts. Graham crackers have almost a teaspoon of sugar less per serving than other cookies, and only contain about 1 gram of fat.

Continue Learning about Eating Habits and Nutrition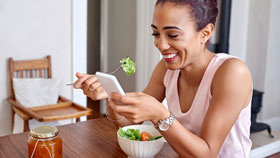 Three meals a day or five? That's only one aspect of the behavior known as eating habits. There is also the matter of style. Do you plan your meals or eat on the run - do you eat when you are happy, sad, or stressed - these are ot...
hers. Recognizing your eating style can help you work to achieve healthier eating habits.
More