Ideally, look for raw nuts in the vending machine. Another option is soy chips, which will satisfy a salty or sweet crunch with some protein. Beef or turkey jerky is another great snack with protein, just avoid it if you need to monitor your sodium intake.
You can find yourself in a situation when you are starving and your only source of food is a vending machine. In that case, Dr. Oz suggests that you should buy the trail mix. It's high in protein and will satisfy immediate hunger. You will also get the added benefits of omega-3s and fiber from almonds, sunflower seeds, peanuts and raisins. Be aware of the proper serving size; often, one pouch can contain 2 to 3 servings.
This content originally appeared on
doctoroz.com
Continue Learning about Eating Habits and Nutrition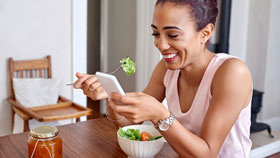 Three meals a day or five? That's only one aspect of the behavior known as eating habits. There is also the matter of style. Do you plan your meals or eat on the run - do you eat when you are happy, sad, or stressed - these are ot...
hers. Recognizing your eating style can help you work to achieve healthier eating habits.
More