Follow these 4 food tips straight from the Irish and you won't need to wish for good health, you'll already be on your way.

1. Eat and drink all things green. Green as in broccoli and kale, mint and parsley, apples and pears, cucumbers and celery -- whether you juice them, bake them, or cut them up into a salad all these greens will help promote healthy glowing skin, digestive wellness (that means flat belly too), and support a healthy immune system.

2. Cabbage -- one of the best foods for detoxifying the blood and liver is great fresh or cooked. But fermented, cabbage (also known as sauerkraut), provides good bacteria which helps improve digestion and prevent colds by aiding the immune system.

3. There really is a pot of gold at the end of the rainbow -- aim to eat at least one food from each color in the rainbow daily to get in all of nature's protecting plant nutrients as well as to visually satisfy your hunger. Don't like any red vegetables? That's okay, the red fruit options will do. What won't work? Artificially colored foods -- there's no pot of gold at the end of an artificial rainbow.

4. Potatoes -- rich in potassium, potatoes can help prevent a hangover (so can plain coconut water) as well as provide fiber if you eat the skins. Enjoy potatoes with your green veggies and you also get skin-tastic results -- the potassium helps hydrate the cells while the greens help remove the toxins.
Continue Learning about Eating and Society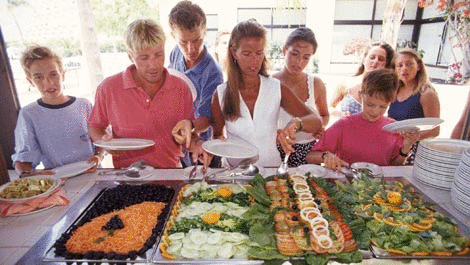 Many Americans are overweight due to a diet filled with high-calorie convenience foods, lack of exercise, large portion sizes and long work hours. The average diet is high in sugar and saturated fat. Many processed foods also have ...
high sodium content. But many of us don't know how to eat healthy. What are some ways in which food production affects our health? Should we learn how food is prepared from other cultures? Learn more about how you can adopt healthy eating habits with expert advice from Sharecare.
More