Restaurant lemons are often as dirty as the floor.

Most restaurants never wash their lemons. They stay in the box that they were shipped in until they end up on your plate. In an independent test, I discovered five out of five lemons from five different restaurants were coated with germs including mold, bacteria, staph and Candida yeast, the type found in the mouth and vagina.

Always order your lemons on the side and squeeze them into your drink or onto your plate yourself. Make sure that the juice doesn't touch the germy lemon rind.
This content originally appeared on
doctoroz.com
Continue Learning about Eating and Society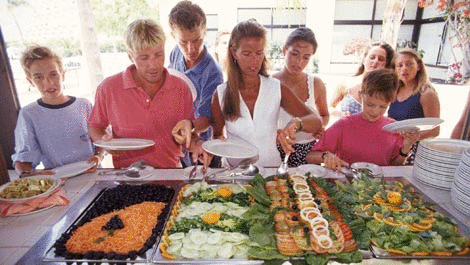 Many Americans are overweight due to a diet filled with high-calorie convenience foods, lack of exercise, large portion sizes and long work hours. The average diet is high in sugar and saturated fat. Many processed foods also have ...
high sodium content. But many of us don't know how to eat healthy. What are some ways in which food production affects our health? Should we learn how food is prepared from other cultures? Learn more about how you can adopt healthy eating habits with expert advice from Sharecare.
More