Mentioning French food usually conjures up thoughts of high fat sauces, rich desserts and lots of butter! However, there are many healthy options at French restaurants.
Try these tips:
Start with a fresh vegetable salad with a vinaigrette dressing or steamed mussels instead of calorie- rich French onion soup as an appetizer.
Skip the croissants and opt for whole grain bread if it's available or you could skip the bread altogether.
Opt for Bordelaise or wine-based sauces instead of high fat Hollandaise, Mornay, Béchamel or Béarnaise ones.
Choose steamed or roasted vegetables versus "au gratin" dishes.
Choose roasted or grilled meats, poultry and fish instead of higher fat choices like pate, duck or sausage.
For dessert, enjoy fresh fruit poached in wine.
Continue Learning about Eating and Society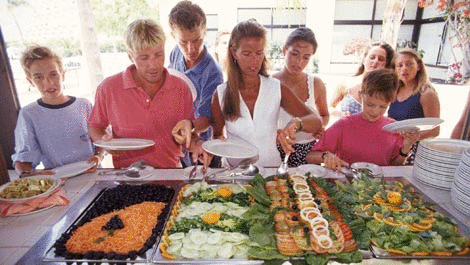 Many Americans are overweight due to a diet filled with high-calorie convenience foods, lack of exercise, large portion sizes and long work hours. The average diet is high in sugar and saturated fat. Many processed foods also have ...
high sodium content. But many of us don't know how to eat healthy. What are some ways in which food production affects our health? Should we learn how food is prepared from other cultures? Learn more about how you can adopt healthy eating habits with expert advice from Sharecare.
More