If you have diabetes, keep your food flavorful and fun and your mealtime setting relaxed so you can enjoy your meal. Here are a few tips to try:
Try new foods and recipes. Check out some low-calorie cookbooks from the library for new ideas and tastes.
Add colorful fruits and vegetables to your meals. Use fruit as a dessert.
Try dried or fresh herbs for seasoning and flavor in place of fat or salt. Basil, chives, cilantro, dill, marjoram, oregano, parsley, rosemary, sage, tarragon and thyme are tasty choices. Crush dried herbs before using. If you're using fresh herbs, remove any tough stems, rinse, dry and chop. A rule of thumb is to use three times more fresh herbs than dried.
Add basil or oregano to a bottled pasta sauce to brighten the flavor.
Try fresh cilantro on sandwiches with a slice of tomato.
Dill is great in tuna or potato salad. Make the salad with low-fat mayo, a little fat-free plain yogurt, and lots of chopped celery and onion, and dill.
Add lemon pepper to fish or chicken.
Try a garlic and herb seasoning for beef, pork or chicken.
Chili powder can be added to soups, salads or vegetables.
Be mindful of what you're eating. Sometimes you can be distracted by the TV, phone or reading and not realize how much you've eaten. Tune into your hunger so you stop eating when you're full. Enjoy the taste of your food by slowing down.
Play music while you eat if it helps you unwind and relax.
Use meal times to connect with others.
Continue Learning about Eating & Nutrition For Diseases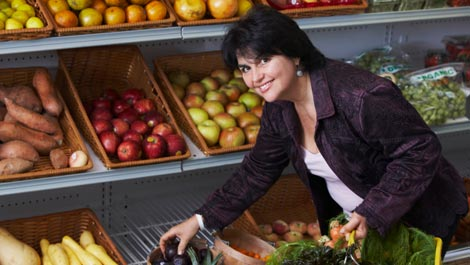 Foods that you consume can be beneficial or detrimental to your health, especially, if you are fighting cancer, living with diabetes or managing pain. Nutrition is essential to your health if you are undergoing cancer treatment. A...
nimal fats, carbohydrates, sugar can all have an impact on pain, inflammation and diabetes.
More