Dark berries such as blueberries, blackberries, cherries, and raspberries help to ease pain because they are filled with anthocyanins, special chemical components that give the intense color to so many fruits and vegetables. It is thought that these plant compounds sweep out harmful free-radical molecules that trigger inflammation.

In a revealing study at the Western Human Nutrition Research Center in Davis, California, researchers had volunteers eat a bowl of forty-five fresh Bing cherries and then measured the C-reactive protein levels in their blood three hours later. After three hours, all the volunteers' blood levels of C-reactive protein dramatically decreased. Researchers concluded that some chemical (anthocyanins) specific to this fruit had an anti-inflammatory effect in the body.

As an extra bonus, one half cup of blueberries (40 calories) or blackberries (30 calories) has more antioxidant power than five servings of green peas, carrots, apples, squash, or broccoli.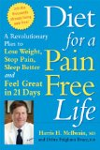 Continue Learning about Eating & Nutrition For Diseases