Called the "Tree of Life," the date palm is said in Muslim legend to have been made from the dust that was left over after the creation of Adam, and it was probably the first cultivated tree in history, having been grown in the Holy Land for at least 8,000 years. Directions for the date palm's husbandry are recorded on sun-baked bricks made in Mesopotamia (Iraq) more than 5,000 years ago, and the date palm is often mentioned in the Bible and in the poetry and proverbs of the East. The date palm was carried to China from Iran about 1,700 years ago, and in the seventeenth century, pioneering Spaniards took date seeds to California. Today, about three fourths of the world's date crop is grown in the Middle East, but the majority of the United States supply is produced in date orchards -- called "date gardens" in the industry -- in California, Arizona, and Texas, where the hot, dry climate and sandy, alkaline soil provide excellent conditions for the date tree's growth.

In the Arab world, dates are often eaten with milk products to boost the protein content, but they are also served alone, fresh or dried, or used in various fruit dishes, baked goods, syrups, candies, ice cream, and salads. In some countries, date pits are roasted, ground, and used as a coffee substitute. Dates have even been fermented and used to make an alcoholic beverage called arrak, described by the sixteenth-century traveler Pedro Texeira as "the strongest and most dreadful drink ever invented." Dates are harvested in late fall and early winter, but they store quite well, so they are available year-round.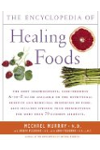 More About this Book
Encyclopedia of Healing Foods
From the bestselling authors of The Encyclopedia of Natural Medicine, the most comprehensive and practical guide available to the nutritional benefits and medicinal properties of virtually everything...
Continue Learning about Eating & Nutrition For Diseases