Your doctor might perform esophageal dilation with sedation along with an upper endoscopy. Your doctor may spray your throat with a local anesthetic spray, and then give you sedatives to help you relax. Your doctor then will pass the endoscope through your mouth and into the esophagus, stomach and duodenum. The endoscope does not interfere with your breathing. At this point your doctor will determine whether to use a dilating balloon or plastic dilators over a guiding wire to stretch your esophagus. You might experience mild pressure in the back of your throat or in your chest during the procedure.

Alternatively, your doctor might start by spraying your throat with a local anesthetic. Your doctor will then pass a tapered dilating instrument through your mouth and guide it into the esophagus. Your doctor may also use x-rays during the esophageal dilation procedure.
Continue Learning about Ear, Nose and Throat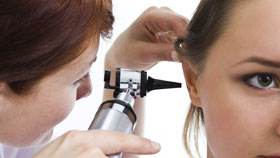 Ear, nose and throat (ENT) problems can impact your life in many ways, affecting your hearing, sleep, breathing, and even your sense of balance. An otolaryngologist, also called a head and neck surgeon, treats these issues, as wel...
l as more serious problems like cancer. Learn more about ear, nose and throat problems from our experts.
More