There are two major parts of the throat: the pharynx and the larynx. The pharynx can be thought of as the upper part of the throat, specifically the tonsils. The back part of the tongue comprises the upper part of the pharynx as well. The larynx, or the voice box, comprises the epiglottis, which is a normal flap of tissue that covers and protects the voice box during swallowing. The vocal folds are also a very critical part of the voice box.

Continue Learning about Ear, Nose and Throat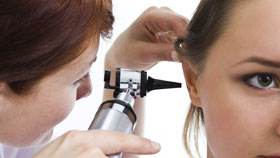 Ear, nose and throat (ENT) problems can impact your life in many ways, affecting your hearing, sleep, breathing, and even your sense of balance. An otolaryngologist, also called a head and neck surgeon, treats these issues, as wel...
l as more serious problems like cancer. Learn more about ear, nose and throat problems from our experts.
More