Cotton swabs can cause more harm than they're worth. In this video, Patrick Brown, MD, from Methodist Ambulatory Surgery Hospital explains why this common tool used for cleaning your ears could be harmful.
Continue Learning about Ear, Nose and Throat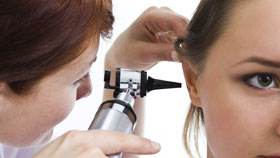 Ear, nose and throat (ENT) problems can impact your life in many ways, affecting your hearing, sleep, breathing, and even your sense of balance. An otolaryngologist, also called a head and neck surgeon, treats these issues, as wel...
l as more serious problems like cancer. Learn more about ear, nose and throat problems from our experts.
More