If you're exposed to loud noise on the job, you're entitled to certain protections from your employer. The Occupational Safety and Health Administration, which has the power under the federal government to regulate noise in the workplace, states that workers should not be exposed to constant noise above 90 dB for longer than eight hours. Companies with work areas that exceed this standard are required by law to have hearing-conservation programs that accomplish the following:
Identify work areas with potentially hazardous noise levels.
Take steps to control this noise.
Schedule regular hearing screening tests for employees.
Require employees to wear earplugs, earmuffs, or similar ear-protection devices.
Educate workers on the dangers of loud noise.
Make sure workers with hearing loss get the proper care to help prevent further hearing damage.
Continue Learning about Ear, Nose and Throat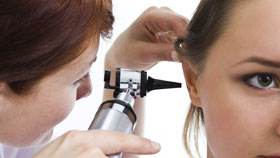 Ear, nose and throat (ENT) problems can impact your life in many ways, affecting your hearing, sleep, breathing, and even your sense of balance. An otolaryngologist, also called a head and neck surgeon, treats these issues, as wel...
l as more serious problems like cancer. Learn more about ear, nose and throat problems from our experts.
More