An empty stomach allows for the best and safest esophageal dilation procedure, so you should have nothing to drink, including water, for at least six hours before the examination. Your doctor will tell you when to start fasting. Tell your doctor in advance about any medications you take, particularly aspirin products or anticoagulants (blood thinners such as warfarin or heparin), or clopidogrel. Most medications can be continued as usual, but you might need to adjust your usual dose before the examination. Your doctor will give you specific guidance. Tell your doctor if you have any allergies to medications as well as medical conditions such as heart or lung disease. Also, tell your doctor if you require antibiotics prior to dental procedures, because you might need antibiotics prior to esophageal dilation as well.
Continue Learning about Ear, Nose and Throat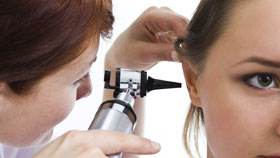 Ear, nose and throat (ENT) problems can impact your life in many ways, affecting your hearing, sleep, breathing, and even your sense of balance. An otolaryngologist, also called a head and neck surgeon, treats these issues, as wel...
l as more serious problems like cancer. Learn more about ear, nose and throat problems from our experts.
More