You can keep your ears healthy by not instrumenting your ear and avoiding prolonged noise exposure. Watch Chadwick Ahn, MD, of Frankfort Regional Medical Center, explain why it's important not to put anything smaller than your elbow in your ear.
There are a number of things you can do to keep your ears healthy:
See a doctor if you have an earache. It could be a middle ear infection that can be treated with antibiotics.
In the winter, wear a hat that covers the ears.
Don't put objects such as cotton swabs in the ears.
Wear earplugs at loud concerts or sporting events.
Avoid loud music.
Continue Learning about Ear, Nose and Throat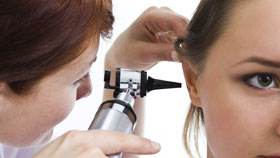 Ear, nose and throat (ENT) problems can impact your life in many ways, affecting your hearing, sleep, breathing, and even your sense of balance. An otolaryngologist, also called a head and neck surgeon, treats these issues, as wel...
l as more serious problems like cancer. Learn more about ear, nose and throat problems from our experts.
More