If your child has Down syndrome, talk to your child's doctor about situations or symptoms that mean you should call the doctor. Down syndrome, a genetic condition in which children are born with an extra chromosome, can raise a child's risk for certain health problems, and your child will need regular check-ups and to be monitored closely for the development of hearing or vision loss, heart or thyroid problems, and other potential health issues.
The American Academy of Pediatrics recommends calling the doctor if:
Your child is breathing unusually fast and/or your child's skin has a blue tint. Children with Down syndrome are at increased risk for heart problems and these symptoms could be signs of a heart problem.
Your child is spitting up, has a swollen belly, or is having abnormal bowel movements (such as very loose stools or persistent constipation). These can be signs of stomach or bowel problems, which are more common in children with Down syndrome than children who do not have the condition.
Your child complains of ear pain, tugs at his ear or has other signs of an ear infection. Children with Down syndrome may be at higher risk for hearing loss if they experience ear infections.
Your child's eyes appear crossed and/or have blocked tear ducts. These may be early signs that your child is at risk for vision loss and use of an eye patch, glasses or other strategies may be able to reduce vision loss.
Your child is tilting his head, complains of a stiff or sore neck, is experiencing numbness in his arms or legs, or has a change in his walking. These can be signs of neck instability.
Your child snores or breathes loudly when sleeping, awakens often at night and appears unusually sleepy during the day. These can be signs of sleep apnea, a potentially dangerous sleep condition that is more common in children with Down syndrome than in those who do not have the condition.
Your child has very dry skin or other skin problems.
Your child is having seizures.
Your child is exhibiting new or challenging behavior problems.
Your child is having more difficulty functioning in your home, at school or in the community because of anxiety, attention problems, wandering off, sadness or moodiness or obsessive/compulsive behaviors.
Your child experiences regression of skills; he is not able to do the things he used to do.
Continue Learning about Down Syndrome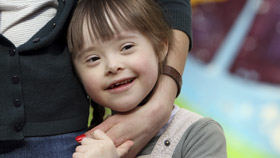 Down syndrome, or trisomy 21, is caused by the presence of a third copy of chromosome 21. The risk for Down syndrome is higher in babies of mothers older than 35, who are more likely to have abnormal eggs that may lead to the cond...
ition. Common symptoms include problems in growth, hearing, vision and immunity, along with problems of the thyroid, heart, muscles and nerves. The severity of these symptoms varies from person to person.
More