Each child, regardless of a diagnosis, may have strengths and weaknesses in any given area. Some children with Down syndrome may have adequate muscle tone in their mouth and jaw and have a good understanding of expressive language, so there may not be much of a delay with talking. Others may struggle to achieve the milestone of saying the first word. Generally, children with Down syndrome have verbally expressed their first words between ages one and four. They've connected two words to make a phrase between the ages of two and seven-and-a-half. A child who develops typically, might begin to talk anywhere from one to three years and string together words from 15 to 32 months of age.
Continue Learning about Down Syndrome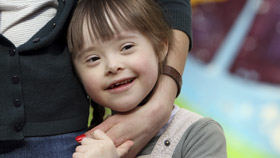 Down syndrome, or trisomy 21, is caused by the presence of a third copy of chromosome 21. The risk for Down syndrome is higher in babies of mothers older than 35, who are more likely to have abnormal eggs that may lead to the cond...
ition. Common symptoms include problems in growth, hearing, vision and immunity, along with problems of the thyroid, heart, muscles and nerves. The severity of these symptoms varies from person to person.
More