Down syndrome is an inherited condition. Children with Down syndrome have an extra copy of the 21st chromosome, which causes developmental delays, and often leads to mental retardation. No one knows for sure whyDown syndrome occurs. However, it is known that women over age 35 have a significantly higher risk of having a child with the condition.
From Good Kids, Bad Habits: The RealAge Guide to Raising Healthy Children by Jennifer Trachtenberg.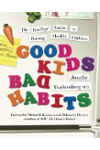 All people with Down syndrome have an extra, critical portion of chromosome 21 in all or some of their cells that alters the course of development and causes the characteristics associated with Down syndrome, but the cause of that extra full or partial chromosome is still unknown.
Maternal age is the only factor that has been linked to an increased chance of having a baby with Down syndrome resulting from nondisjunction or mosaicism. However, due to higher birth rates in younger women, 80 percent of children with Down syndrome are born to women under 35 years of age.
There is no definitive scientific research that indicates that Down syndrome is caused by environmental factors or the parents' activities before or during pregnancy.
The additional partial or full copy of the 21st chromosome that causes Down syndrome can originate from either the father or the mother. Approximately five percent of the cases have been traced to the father.
This content originally appeared on the National Down Syndrome Society website.
Down syndrome is the name for a set of problems caused by extra genetic material present at the time of conception (when a sperm first fertilizes an egg). This is due to some genetic material failing to separate at a crucial point in the process, resulting in the presence of an extra 21st chromosome. No one knows why this happens. It tends to happen more often as the mother is closer to the end of her child-bearing years, but it happens in young mothers as well.
Down syndrome or trisomy21 is caused by the presence of a third copy of chromosome21.
Down syndrome occurs when there is too much genetic material from the 21st chromosome. There are three "types" of the disorder characterized by variations in their contributing factors. The first type, trisomy 21, is by far the most common form of Down syndrome. At the time of conception, the father or mother delivers an extra chromosome 21 to what becomes the fertilized egg. As the cells divide and multiple, the extra copy of the chromosome is replicated in each cell. Therefore, each cell has 47 instead of 46 chromosomes total.
The second type, translocation Down syndrome, occurs less frequently than trisomy 21 (only about 3 percent of the time). In this type, the extra chromosome 21, or section of it, connects itself to another chromosome. The individual still has 46 total chromosomes, though.
The third type, mosaic Down syndrome, is about as frequently occurring in the population as translocation. In this instance, however, only some cells will have three copies of chromosome 21 while others will have two. Mosaic Down syndrome is thought to be the result of problems in cell division.
Continue Learning about Down Syndrome