Currently, more women are electing the first trimester combined test, done in two steps during week 11 to 13 of pregnancy. The first trimester combined test includes: Ultrasound. The doctor uses ultrasound to measure a specific region on the back of a baby's neck. This is known as a nuchal translucency screening test. When abnormalities are present, more fluid than usual tends to collect in this tissue. Blood tests. Results of the ultrasound are paired with blood tests that measure levels of pregnancy-associated plasma protein-A (PAPP-A) and a hormone known as human chorionic gonadotropin (HCG). Abnormal levels of PAPP-A and HCG may indicate a problem with the baby.
Amniocentesis is the most accurate test for detecting chromosome problems such as Down syndrome.
Continue Learning about Down Syndrome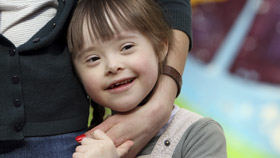 Down syndrome, or trisomy 21, is caused by the presence of a third copy of chromosome 21. The risk for Down syndrome is higher in babies of mothers older than 35, who are more likely to have abnormal eggs that may lead to the cond...
ition. Common symptoms include problems in growth, hearing, vision and immunity, along with problems of the thyroid, heart, muscles and nerves. The severity of these symptoms varies from person to person.
More