In Down syndrome, every cell in the body has an extra chromosome (or piece of a chromosome). The effect of this extra DNA varies, but commonly people who have Down syndrome have mental disability, atypical facial structure, and physical defects, especially heart defects. They are at higher risk for developing leukemia, a thyroid problem, dementia or having trouble with their hearing or vision.
The extra genetic material that causes Down syndrome (DS) seems to interfere with the normal development of some bodily systems. The following are a few examples: Heart: Around 50 percent of babies with DS have a heart defect (some part of the heart was not formed correctly).
Spine: Some people may have a condition called atlantoaxial instability (unstable joints in the neck).
Endocrine: Some individuals have a thyroid disorder that may or may not be related to an abnormal size of the thyroid gland.
Hearing and Vision: People with DS may have malformations in the structure of their ears (affecting hearing abilities) and are at a higher risk for cataracts.
Immune system: People affected by the disorder may have atypical immune systems. This makes them more susceptible to illnesses like pneumonia.
Continue Learning about Down Syndrome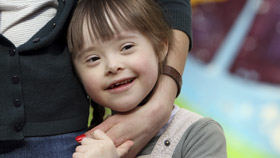 Down syndrome, or trisomy 21, is caused by the presence of a third copy of chromosome 21. The risk for Down syndrome is higher in babies of mothers older than 35, who are more likely to have abnormal eggs that may lead to the cond...
ition. Common symptoms include problems in growth, hearing, vision and immunity, along with problems of the thyroid, heart, muscles and nerves. The severity of these symptoms varies from person to person.
More