Some cases of Down syndrome can be prevented by being aware of the disease risk factors and also utilizing available screening tests. Mainly, the older the mother (more than 30 years old), the higher the chance of chromosomal errors and Down syndrome. Also, if there is a history of previous children with Down, then there is a much greater chance of having another affected child. Screening tests are now standard in most prenatal care and can give parents an idea of the likelihood of chromosomal abnormalities. There are exceptions to all the above, and so not all cases can be prevented.

Down syndrome cannot be prevented. It is a genetic abnormality that happens spontaneously. A pregnant woman's diet or activities have no bearing on it. Although a woman of any age can have a baby with Down syndrome, there is a link between the probability of having a child with Down syndrome and the age of the mother. As a woman gets older, her odds of having a baby with Down syndrome get greater.
Continue Learning about Down Syndrome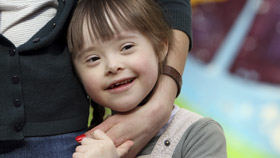 Down syndrome, or trisomy 21, is caused by the presence of a third copy of chromosome 21. The risk for Down syndrome is higher in babies of mothers older than 35, who are more likely to have abnormal eggs that may lead to the cond...
ition. Common symptoms include problems in growth, hearing, vision and immunity, along with problems of the thyroid, heart, muscles and nerves. The severity of these symptoms varies from person to person.
More