Alternative treatments for Down syndrome include hormone treatment and diet and nutritional supplements, among others. Proponents claim these treatments will improve cognitive delays, growth and development patterns, and even change the appearance of a person with Down syndrome. Yet, there is little scientific evidence that proves that these treatments work. If you are interested in an alternative treatment, make sure to talk to your doctor about the probable side effects and overall value of it.
Continue Learning about Down Syndrome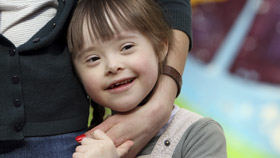 Down syndrome, or trisomy 21, is caused by the presence of a third copy of chromosome 21. The risk for Down syndrome is higher in babies of mothers older than 35, who are more likely to have abnormal eggs that may lead to the cond...
ition. Common symptoms include problems in growth, hearing, vision and immunity, along with problems of the thyroid, heart, muscles and nerves. The severity of these symptoms varies from person to person.
More