To qualify for Social Security Disability benefits, you must meet the Social Security Administration's (SSA) definition of disability. A cancer diagnosis does not automatically meet the SSA's definition of disability. The SSA processes cancer disability claims on a case-by-case basis. You must therefore prove that you cannot work for at least one year because of your diagnosis, and this proof must come from your doctor. People who have stem cell or bone marrow transplants automatically meet the definition.
Continue Learning about Disability Insurance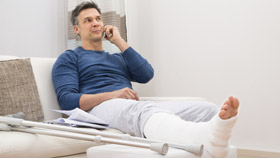 Disability insurance does not cover medical costs. Instead, it pays a monthly sum to replace lost income that you would have if you didn't have to miss work due to a disability. Short-term disability, often offered by employers, u...
sually provides benefits and income to people who have become temporarily disabled due to injury or illness. Long-term disability kicks in once the short-term coverage reaches its limit.
More