Social Security Disability Insurance (SSDI) eligibility is based on a worker's earnings over a certain number of years, and a minimum work history is required in order to be eligible. Exact numbers vary depending on income and age, but generally, you can earn four credits per year. You need at least 20 credits to be insured under SSDI. The older you are, the more credits you'll need. A professional Social Security disability representative can help determine if you have the required work credits to be eligible.

Younger applicants have had less opportunity to pay FICA taxes, which is critical considering that MS diagnoses tend to come at younger ages than many other disabilities. The Social Security Administration (SSA) has more stringent rules applicable to younger individuals -- those under age 50 -- than for those 50 and older. So it's important to have documentation of your work and medical history.
Continue Learning about Disability Insurance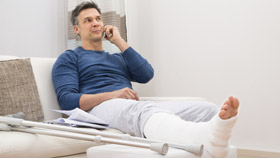 Disability insurance does not cover medical costs. Instead, it pays a monthly sum to replace lost income that you would have if you didn't have to miss work due to a disability. Short-term disability, often offered by employers, u...
sually provides benefits and income to people who have become temporarily disabled due to injury or illness. Long-term disability kicks in once the short-term coverage reaches its limit.
More