The following options may be available to you:
Supplemental Security Income & Social Security Disability Insurance: SSI and SSDI provide benefits to low-income individuals and persons with disabilities.
Individual Health Insurance Policies: A possible option for people who do not have job-based coverage. Some states offer individual coverage to all persons regardless of their health status.
Prescription Assistance: Most pharmaceutical companies have established patient assistance programs to help uninsured individuals get the medications that they need to stay healthy.
You betcha. Before the Affordable Care Act (aka Obamacare) provisions that prevent insurance companies from turning you down or charging you up the wazoo because of a pre-existing condition (including a disability) kick in 2014, you have a number of options:
If you are 26 or under, you can be covered under a parent's health insurance. Thanks Mom and Dad!
If you qualify, you can receive coverage under Medicaid. Check with your state government to know for sure.
Contact your State Health Insurance Assistance Program (SHIP) to get information about and even enroll in your state's high risk pool/pre-existing condition health plan.
So even though this super awesome ObamaCare provision doesn't kick in until 2014, you still have options.
Many laws exist to regulate how insurance companies use information about a person"s disability to determine eligibility for health care coverage. Be certain that you know your rights and that they have not been violated. You may also qualify for Social Security disability, which may in turn make you eligible for Medicare and Medicaid. If you work for an employer who purchases large group coverage, this may be the easiest route to get coverage as any restriction placed on group coverage must apply equally to all employees, so your disability should not be a factor. Restrictions regarding preexisting conditions cannot be used in a large group plan. You may also consider purchasing a private policy which may be more expensive, but would still offer benefits that help you cover medical costs.
Continue Learning about Disability Insurance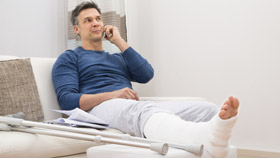 Disability insurance does not cover medical costs. Instead, it pays a monthly sum to replace lost income that you would have if you didn't have to miss work due to a disability. Short-term disability, often offered by employers, u...
sually provides benefits and income to people who have become temporarily disabled due to injury or illness. Long-term disability kicks in once the short-term coverage reaches its limit.
More