Vietnam veterans with type 2 diabetes are eligible for disability compensation from the Department of Veterans Affairs (VA) based on their presumed exposure to Agent Orange or other herbicides. Under Section 102, Public Law 104-262, the Veterans' Health Care Eligibility Reform Act of 1996, the Department of Veteran Affairs (VA) shall furnish hospital care and medical services, and may furnish nursing home care to veterans exposed to herbicides in Vietnam. There are some restrictions. The VA cannot provide such care for 1) a disability which VA determines did not result from exposure to Agent Orange, or 2) a disease which the National Academy of Sciences (NAS) has determined that there is "limited/suggestive" evidence of no association between occurrence of the disease and exposure to a herbicide agent.
Continue Learning about Disability Insurance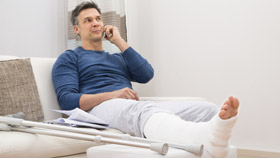 Disability insurance does not cover medical costs. Instead, it pays a monthly sum to replace lost income that you would have if you didn't have to miss work due to a disability. Short-term disability, often offered by employers, u...
sually provides benefits and income to people who have become temporarily disabled due to injury or illness. Long-term disability kicks in once the short-term coverage reaches its limit.
More