Researchers at the University of Massachusetts Medical School evaluated eating patterns in almost 500 adults. They found that people skipping breakfast were four and a half times more likely to be obese than those who regularly ate breakfast. It also mattered where they ate. People who frequently ate breakfast or dinner away from home were also more likely to be obese. When people ate breakfast or lunch away from home, the meal tended to have more calories, more fat, and less healthy fiber. This study suggests that better weight control will be achieved if you eat regular meals at home, rather than skipping meals and catching meals on the run. So schedule regular feeding times and stick to them.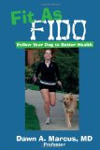 More About this Book
Fit As Fido: Follow Your Dog to Better Health
Let your dog teach you to live a happier, healthier, and more fulfilling life! Companionship with your pet can be used as a means and a motivator to increase your own physical and mental fitness....
Skipping meals is a common practice because many of our lives just get super hectic and we find ourselves working through lunch or just drinking black coffee for breakfast. Put simply, skipping meals can often lead to being really hungry by the end of the day, which in turn can result in overeating. Controlling your weight is directly related to how well you control your appetite. If you are in a calorie surplus (eat more calories than you burn) then you will gain body fat. Being hungry because you skipped a meal can throw you in a surplus because you are more likely to consume too many calories in a sitting. Skipping meals can also make you tired and therefore less likely to move and exercise. This will also get in the way of managing your weight because you'll have a harder time burning the calories needed to maintain the right balance.

Your calories should be spread throughout the day to maximize satiety (the sense of fullness you have after a meal) and will contribute to healthy weight maintenance. You'll be less likely to overeat if you aren't ravenously hungry and more likely to get your workouts in since you'll have the energy.

According to a study in the Journal of the Academy of Nutrition and Dietetics of over 120 overweight/obese women on a 12-month, healthy calorie-restricted diet guided by registered dietitians (RDs), both skipping meals and eating out often could sabotage your weight loss efforts. The results of the study uncovered the specific diet strategies that helped the women not only meet their weight loss goal of losing 10 percent of their body weight by 6 months but also to maintain the weight loss at 12 months. The more successful women:
Didn't Skip a Meal: Women who reported skipping meals lost almost 8 fewer pounds than non-skippers. When you skip a meal, you may become so intensely hungry that you are driven to eating anything that isn't moving. Avoid this ravenous state of mind by eating at least three healthy, well-balanced, calorie-controlled meals daily.
Avoid Restaurants at Lunch: The women who ate out at lunch at least weekly lost almost 5 fewer pounds, on average, than those who didn't. This mirrors other studies that show that dining out frequently is associated with a higher body weight.
The Take Home Message: Don't skip meals and minimize dining out when you are trying to lose weight. Skipping meals when trying to lose weight is never a good idea. When you let yourself get really hungry, you are setting up the scenario to overeat. When you get ravishingly hungry, your blood sugar drops which can lead to losing control and overeating. Eating three balanced, healthy meals a day is the best way to either lose weight or maintain your weight. When you prevent extreme hunger you are more likely to make better food choices when eating out. If you arrive at a restaurant starving, it will be difficult to avoid the rolls, chips or whatever else is on the table. When you are not starving, you can make healthier choices. You will also have the patience to sit down and eat rather than have to grab fast food because you are so hungry you can't wait. In the end, the time you take will be rewarded with better food choices and a lower weight.
Continue Learning about Dieting For Weight Loss