Grains were among the first cultivated crops. In fact, archaeological evidence shows that wheat and barley were used more than 10,000 years ago by people living in the Fertile Crescent, a broad crescent-shaped area that curved northward and eastward from the eastern border of Egypt, to the Taurus Mountains of southern Turkey, across to the Zagros Mountains of western Iran, and down to the Persian Gulf. Grain farming was also well established along the Nile in Egypt. Since dried grains store well, it is not surprising that their cultivation spread from the Fertile Crescent as people traveled to new lands.

Other areas of the world began grain farming a bit later. Millet farming was well established along the upper Yellow River in China. At about the same time, rice was being cultivated in Southeast Asia. Rice was originally believed to have been first cultivated in China around 6,000 years ago, but recent archaeological discoveries have found primitive rice seeds and ancient farm tools dating back about 9,000 years. The cultivation of grains and development of grain foods, such as bread, contributed greatly to the growth of civilization. Without grains it is unlikely that civilization would have developed the way that it has. Several factors promoted the spread of grain cultivation: (1) an increase in population; (2) changes in climate; (3) the domestication of animals; and (4) the development of commerce.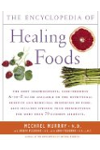 More About this Book
Encyclopedia of Healing Foods
From the bestselling authors of The Encyclopedia of Natural Medicine, the most comprehensive and practical guide available to the nutritional benefits and medicinal properties of virtually everything...
Continue Learning about Dietary Supplements
Whether you're visiting the drug store, grocery or natural food shop you'll likely find an aisle where there are jars and bottles of things for you to put in your body that are neither foods nor medicines. Ranging from vitamins an...
d minerals to fiber and herbal remedies, these supplements are not regulated in the same way as either food or medicine. Some of them are backed by solid research, others are folk remedies or proprietary cures. If your diet does not include enough of certain vitamins or minerals, a supplement may be a good idea. Natural treatment for conditions like constipation may be effective. But because these substances are unregulated, it is always a good idea to educate yourself about the products and to use common sense when taking them. This is even more true if you are pregnant or taking a medicine that may be affected by supplements.
More