Common oat products include:
Oat groats: Unflattened kernels good as breakfast cereals or in stuffings.
Steel-cut oats: Produced by running oats through steel blades, which thinly slice them, creating a denser, chewier texture.
Old-fashioned oats: These oats are steamed and then rolled; as a result, they have a flatter shape than other oats.
Quick-cooking oats: Similar to old-fashioned oats, but after steaming they are cut finely before rolling.
Instant oatmeal: Produced by partially cooking the oats rather than simply steaming them, and then rolling them very thin. Often sugar, salt, and other ingredients are added to make the finished product.
Oat bran: The outer layer of the grain that resides under the hull. While oat bran is found in all whole-grain oat products, it may also be purchased as a separate product that can be added to recipes or cooked to make a hot cereal.
Oat flour: A flour made from hulled oats that is used in baking and is often combined with wheat or other gluten-containing flours when making leavened bread.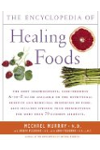 More About this Book
Encyclopedia of Healing Foods
From the bestselling authors of The Encyclopedia of Natural Medicine, the most comprehensive and practical guide available to the nutritional benefits and medicinal properties of virtually everything...
Continue Learning about Dietary Supplements