Both green and black teas contain relatively high amounts of vitamins C, D, and K and riboflavin, as well as good amounts of the minerals calcium, magnesium, iron, zinc, sodium, nickel, and fluoride. However, it is the polyphenols of green tea that are responsible for its health benefits. A 6 oz. cup of tea contains only 1 calorie as carbohydrate, with no protein or fat.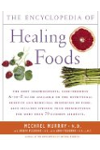 More About this Book
Encyclopedia of Healing Foods
From the bestselling authors of The Encyclopedia of Natural Medicine, the most comprehensive and practical guide available to the nutritional benefits and medicinal properties of virtually everything...
Tea is high in an antioxidant called catechins, which have been shown to help prevent or reduce the incidence of cancer. A specific antioxidant called EGCG might also help promote fat burning and weight loss. Shoot for 3 cups of green tea (without cream or sugar) to get health benefits.
Continue Learning about Dietary Supplements