Honey can be found in its standard amber state but may also be red, brown, and even nearly black. Made by bees in an elegantly natural process, honey is designed for bees' nourishment. Incredibly, each bee makes on average about only 1/12 of a teaspoon of honey in its entire lifetime. Considering the tons of honey produced each year, that is a lot of bees at work! The honeybee (Latin name Apis) first travels several miles to collect into their mouths nectar from local flowers. Enzymes in the bee saliva then create a chemical reaction that turns this nectar into honey, which is deposited into the walls of the hive. Incredibly rapid movement of the bees' wings aerates the honey, which decreases its water content and makes it ready to eat. Textures and flavor are dependent on which flowers the honeybees choose. Typical choices include heather, alfalfa, clover, and acacia. Less common but well-known flowers that confer their own special taste characteristics on the honey include thyme and lavender.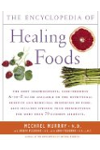 More About this Book
Encyclopedia of Healing Foods
From the bestselling authors of The Encyclopedia of Natural Medicine, the most comprehensive and practical guide available to the nutritional benefits and medicinal properties of virtually everything...
Continue Learning about Dietary Supplements