Bee pollen comes from the male germ cell of flowering plants. As the honeybee travels from flower to flower, it fertilizes the female germ cells with some of the male germ cells it picks up. Honeybees make possible the reproduction of more than 80 percent of the world's grains, fruits, vegetables, and legumes. The remaining male pollen is collected and brought to the hive, where the bees add enzymes and nectar to the pollen. Bee pollen consists of tiny, golden yellow to dark brown granules that have a delicate flavor and aroma that vary according to the plant pollen it was made from and is used as a nutritive tonic as well as to desensitize seasonal allergies.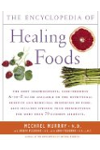 More About this Book
Encyclopedia of Healing Foods
From the bestselling authors of The Encyclopedia of Natural Medicine, the most comprehensive and practical guide available to the nutritional benefits and medicinal properties of virtually everything...
Continue Learning about Dietary Supplements