Although whole wheat can be very nutritious, some individuals do not react well to gluten, a component of wheat, oats, barley, and rye. Celiac disease (nontropical sprue) is a small-intestine disorder whereby reaction to gluten causes severe malabsorptive symptoms, frequent diarrhea, and irregular small intestine luminal structures that can return to normal once the offending gluten products are removed. Wheat is a common food allergen, especially in children. Common symptoms associated with an allergic reaction to wheat products include chronic gastrointestinal disturbances; frequent infections, such as ear and bladder infections; enuresis (bed-wetting); asthma and sinusitis symptoms; eczema, skin rash, acne, and hives; bursitis and joint pains; fatigue, headache, and migraine. Hyperactivity, depression, and insomnia can also be observed. Since wheat contains moderate to large amounts of oxalate, individuals with a history of calcium oxalate-containing kidney stones should limit their consumption of this food.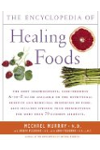 More About this Book
Encyclopedia of Healing Foods
From the bestselling authors of The Encyclopedia of Natural Medicine, the most comprehensive and practical guide available to the nutritional benefits and medicinal properties of virtually everything...
Continue Learning about Dietary Supplements
Whether you're visiting the drug store, grocery or natural food shop you'll likely find an aisle where there are jars and bottles of things for you to put in your body that are neither foods nor medicines. Ranging from vitamins an...
d minerals to fiber and herbal remedies, these supplements are not regulated in the same way as either food or medicine. Some of them are backed by solid research, others are folk remedies or proprietary cures. If your diet does not include enough of certain vitamins or minerals, a supplement may be a good idea. Natural treatment for conditions like constipation may be effective. But because these substances are unregulated, it is always a good idea to educate yourself about the products and to use common sense when taking them. This is even more true if you are pregnant or taking a medicine that may be affected by supplements.
More