As with meat and fish, crustaceans must be handled, stored, and cooked properly to prevent food borne illness.

As with fish and other shellfish, allergic reactions to crustaceans are commonly reported in both adults and children. It is generally recommended that individuals who have had an allergic reaction to one species of crustacean avoid all members of the species. Allergic reactions to crustaceans can be severe and are often a cause of anaphylaxis.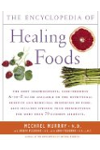 More About this Book
Encyclopedia of Healing Foods
From the bestselling authors of The Encyclopedia of Natural Medicine, the most comprehensive and practical guide available to the nutritional benefits and medicinal properties of virtually everything...
Continue Learning about Dietary Supplements