Manganese is an essential trace mineral that helps activate powerful antioxidant enzymes, convert fats and proteins into energy, and support cartilage and bone formation. Manganese deficiency is rare, but symptoms can include loss of bone mass and stunted growth in children.

Manganese is crucial in protecting mitochondria -- the power plants of the cells -- from free-radical damage. Since mitochondria process 90 percent of the oxygen that enters the body, they need the best defense against oxidative damage. Manganese supplies this in the form of manganese superoxide dismutase -- the fastest reacting antioxidant enzyme that exists.

Wound Healing
Healing wounds requires increased production of cartilage and collagen. Manganese helps support this demand, which makes adequate dietary manganese especially important during recovery from injury. A Polish study found that certain cancer-fighting drugs that impair collagen synthesis and delay wound healing work by immobilizing manganese, so that it can't activate the collagen-building enzyme.

Bone Health
Manganese helps activate enzymes required for creating cartilage and collagen to support normal bone growth. In a study at the University of California, San Diego, researchers found that while calcium slowed spinal bone-mineral loss in postmenopausal women, a mineral combination of zinc, copper and manganese actually stopped it. Additional studies show that women with osteoporosis have decreased manganese levels.

Brain Health
When Colombian scientists reviewed several human studies comparing manganese levels among epileptics and a control group, they found that seizure sufferers had particularly low levels. More research is needed to determine whether manganese deficiency is a cause -- or effect -- of epilepsy.
Manganese is a part of many enzyme systems, including the enzymes involved in blood sugar control, energy metabolism, and thyroid hormone function. Manganese also participates in the antioxidant enzyme, superoxide dismutase, or SOD. This enzyme is responsible for preventing the deleterious effects of the superoxide free radical from destroying cellular components. Without SOD, cells are quite susceptible to damage and inflammation. Manganese supplementation has been shown to increase SOD activity, indicating increased antioxidant activity. Clinically, manganese is used for strains, sprains, and inflammation. There is evidence that patients with rheumatoid arthritis and presumably other chronic inflammatory diseases have an increased need for manganese. No trials have yet been done with manganese and rheumatoid arthritis, but supplementation appears to be indicated.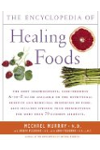 More About this Book
Encyclopedia of Healing Foods
From the bestselling authors of The Encyclopedia of Natural Medicine, the most comprehensive and practical guide available to the nutritional benefits and medicinal properties of virtually everything...
Continue Learning about Dietary Supplements
Whether you're visiting the drug store, grocery or natural food shop you'll likely find an aisle where there are jars and bottles of things for you to put in your body that are neither foods nor medicines. Ranging from vitamins an...
d minerals to fiber and herbal remedies, these supplements are not regulated in the same way as either food or medicine. Some of them are backed by solid research, others are folk remedies or proprietary cures. If your diet does not include enough of certain vitamins or minerals, a supplement may be a good idea. Natural treatment for conditions like constipation may be effective. But because these substances are unregulated, it is always a good idea to educate yourself about the products and to use common sense when taking them. This is even more true if you are pregnant or taking a medicine that may be affected by supplements.
More